Do you ever feel like...
► You have a decent amount of clothes, but it's hard to make outfits. 
► You'd love to get more use out of your clothes, but nothing goes together.
► You often don't bother getting dressed because it's so difficult to put together a good outfit.

► You need a wardrobe upgrade, but you want help identifying smart purchases that you'll wear a lot.
We know what it feels like to have a bunch of clothes that you just can't seem to pull together.
You want to mix and match and make better use of your clothes, but it just doesn't seem to work.

You have some pieces you like but need help knowing how to pull them together.

You want to make smart purchases but feel clueless about what to buy.
✨
Update your wardrobe with smart purchases that you'll wear over and over.
✨
Pull together outfits more easily with versatile pieces that work together.
✨
Find more ways to wear the clothes in your closet.
Wouldn't life be so much easier?
Let me introduce you to
The Wardrobe Staples Styler
The Wardrobe Staples Styler is your guide to pulling together your closet with less fuss and more confidence by utilizing a few closet essentials that you'll wear over and over again.


YES, I WANT THIS!
You will discover how to…
Identify key wardrobe essentials for easier style.
---

Make your wardrobe function more smoothly by including just a few key essentials.
Pull together outfits quickly, with less fuss.
---

With the right pieces and some outfit templates, you'll be able to create outfits easily.
Mix and match the pieces you have, endlessly.
---

Learn to dress pieces up or down and discover tons of ways to wear what you have. 
"I have all of the basic building block pieces now and

 

I'm noticing how much easier it is to put together an outfit.

 

It's amazing how

 

just a few building blocks

 

can add so much

 

variety

 

to a wardrobe."
- Stephanie
Hey, there! I'm Audrey, the one behind

 

Putting Me Together.
>>>>

I'm a style & wardrobe coach who loves to make style simple and approachable so that you can put yourself together with more confidence and ease.
I totally understand what it's like to have a closet that feels like a random mix of clothes that don't work well together. (That's how my wardrobe used to be!)
And, I've coached over 1,300 women to love their wardrobes through my style programs.
So, trust me when I say that knowing how to work with wardrobe staples is the most transformative thing you can do to upgrade your style.
(Without wearing boring outfits!)


 With just a few key essentials, you'll be amazed at how much easier it is to put together everything else in your closet.
What's included in the Wardrobe Staples Styler:
WARDROBE STAPLES RUNDOWN
I'll coach you to strategically identify which of 16 key pieces make sense to add to your wardrobe. 
You'll also get tips for what to look for when shopping for each piece, such as colors and cuts to consider. 
This is the coaching I share with all my students, and it'll help you make smarter purchases!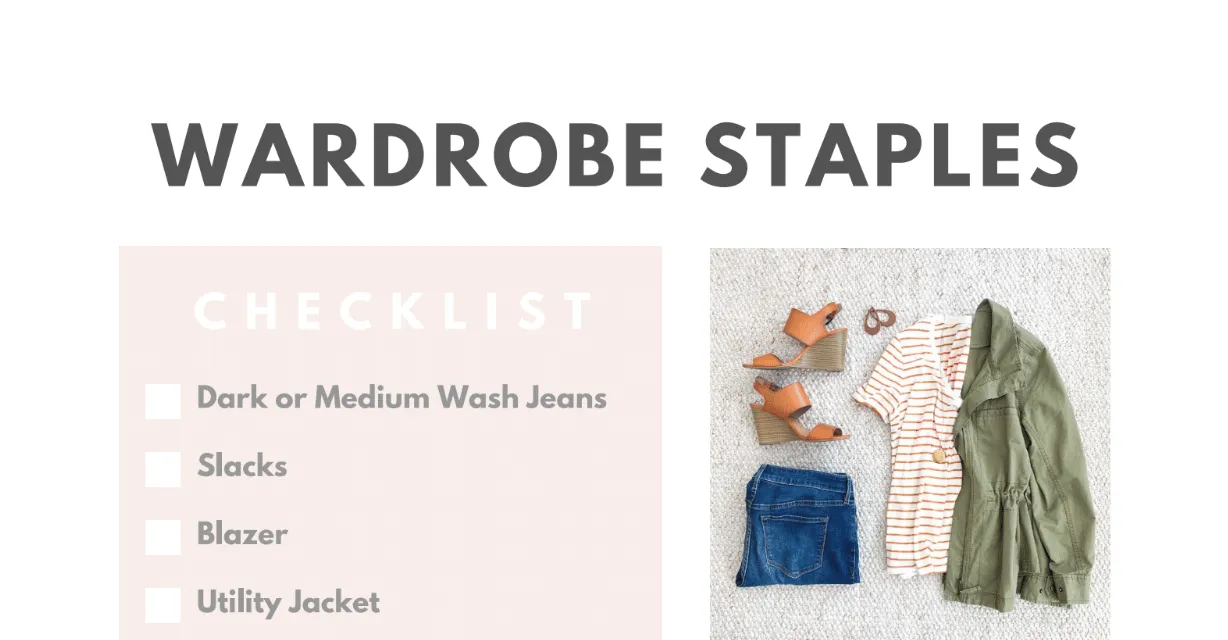 WARDROBE STAPLES CHECKLIST
Keep track of which closet staples you already have and which ones you want to add with this handy checklist. 
48 STARTING OUTFIT PROMPTS
Once you have the staples, I'll help you combine them into outfits! For each wardrobe staple, I'll show you three Quick-Start Outfit Prompts to help you style the staples and even know how to dress them up and down!
Think of these as plug-and-play templates that help you create outfits quickly.
(Don't worry if you don't have clothes that look like the ones in the examples. The templates enable you to plug in your own favorite clothes!)
OUTFIT VAULTS

 

(330+ OUTFIT IDEAS!)
Quench your thirst for even MORE outfit ideas with the Outfit Vaults! 
I've gathered these combos from my blog, Putting Me Together, so you can conveniently have them all in one place. 
With over 330 outfit ideas at your fingertips, you'll have endless ways to wear your wardrobe staples! 

You'll know exactly which essentials to have and how to use them to pull together what's in your wardrobe. 
The Wardrobe Staples Styler is straightforward and can help you right away.
There's no gimmick or magical illusion.
 
It's simply what I walk through with every client and student I've worked with, packaged up into a convenient resource that:
➡️ Educates you on the essentials for a great wardrobe
➡️ Saves you time searching for answers
➡️ Provides you with tools for how to wear your staples and get more use out of the clothes in your closet
Instead of walking through it with you in a 1:1 session (which would cost $200), it's in a handy guide that helps you do it yourself—for just $27. 💛
FAQs: Got Questions? Let's go! 
Will I need to spend a fortune on a clothes?
Will these staples suit my personal style?
Are the wardrobe staples for casual style or work?
Will this work if I'm plus size? Petite? Curvier than you? Slimmer than you? Taller than you?
I HATE shopping. Are there shopping links?
My schedule is CRAZY. How long will it take me to go through the content in this guide?
Can I buy this, try this, then ask for a refund?
What happens after I buy the Wardrobe Staples Styler?
"I was buying whatever fun new color or exciting new style I saw. I have been gradually adding better neutral pieces so that I can put together outfits.

 

My wardrobe is working so much better!"
- Laura
"Loving this resource especially the outfit vault, there's a huge amount of outfit combos! 👍👏"
- Chloe
"I lost some weight and struggling to get dressed, so downloaded your staples styler.
 

Loved having an easy guide to help me feel put together.

 

:)" 

- Betsy
"My shopping habit for the past 10 years has been: entering a store, buying shiny new things and then having a hard time creating outfits. I definitely needed more staples. The staples guide has been so helpful to me!

 

I finally know how to combine this 10-year old blazer!"
- Maya
"Great resource!!"
- Andrea
If you

 

don't

 

utilize wardrobe staples, you'll continue to:

✗ Be frustrated that nothing in your closet goes together
✗ Feel guilty that you aren't wearing the clothes you spent good money on 
✗ Wear frumpy, "I give up" clothes because you don't have good options
With the Wardrobe Staples Styler, you can:

✔ Get dressed with more ease, thanks to the new combos you can create from all your clothes
✔ Happily wear those gems that have been sitting in your closet 
✔ Wear better outfits that make you feel good because you finally have some good options 
In total, when you grab the Wardrobe Staples Styler, you get...
✔ Wardrobe Staples Checklist
✔ Wardrobe Staples Rundown for 16 key pieces 
✔ 48 Quick-Start Outfit Prompts to help you style the staples like a pro
✔ Outfit Vaults with 330+ outfit ideas so you can really make the most of your wardrobe


---

Total Value: $200
Just $27